Klavaro Touch Typing Tutor
3.13
"Yet another touch typing tutor"
Every time I stumble over a typing tutor app I get sad that the world adopted QWERTY instead of the Dvorak layout or even better, the Colemak. But I think it's too late for that. Alternative (read: better) layouts will remain a fringe subject, while we are all forced to learn to type using a sub par standard, just like the English language.
In any case, learning how to type 'correctly' is a really hard thing when you've already developed a fast and reliable routine for tapping at a keyboard. For example, my late forays into Typer Shark were more about gameplay than learning to type. Klavaro hit me the same way, except it's clearly not as fun as Typer Shark!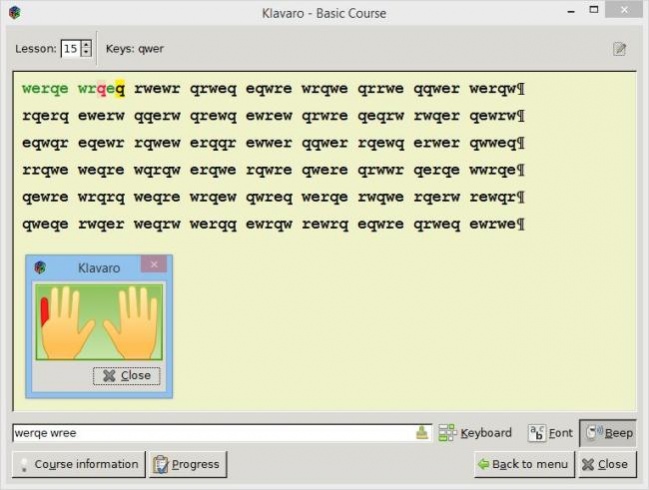 In Klavaro you get to practice efficient typing by performing four types of exercises. Each exercise is a step up in difficulty from the previous one:
The Basic Course is comprised of 43 exercises in which you type to match different arrays of letters and symbols. These are very repetitive and could potentially turn you away from Klavaro altogether. Not to mention that they give you wrist sores, the likes you've never experienced before.
But don't lose hope just yet. The second course gets a bit better. In this one, you will need to type in random assortments of letters, numbers, and symbols. This is called "Adaptability". Theoretically, this one and the Basic Course take into account that you are familiarizing yourself with the position of the keys and that you are typing using the recommended assignment of fingers to keys. Good thing I learned to type well by myself. Now I can just ignore this nonsense.
The third and fourth courses are the best. "Velocity" presents you with some sort of written gibberish, but at least it has an adequate number of vowels to consonants and very few random characters. "Fluidity" features regular text that you can also source yourself from a text file.
All exercises measure the time in which you complete them, how many mistakes you've done, as well as the typing frequency. They all combine to give you a score which is saved and can be reviewed as part of a progression graph. You may check the progression graphs by course and category. These, of course, are only accurate over a large number of sessions.
Features
Keyboard introduction
Four types of exercises
Guiding window (shows which fingers you should use for the next key)
Progress graphs
Practice on custom text
Final Thoughts
Although I do not recommend you spend much time on the first two courses, the latter ones are really useful though in gauging your progress if you intend on becoming a more efficient typist.
RELATED PROGRAMS
Our Recommendations
---
---
---
---